Pairwise Grows Commercial Leadership Team As Consumer Product Launch Nears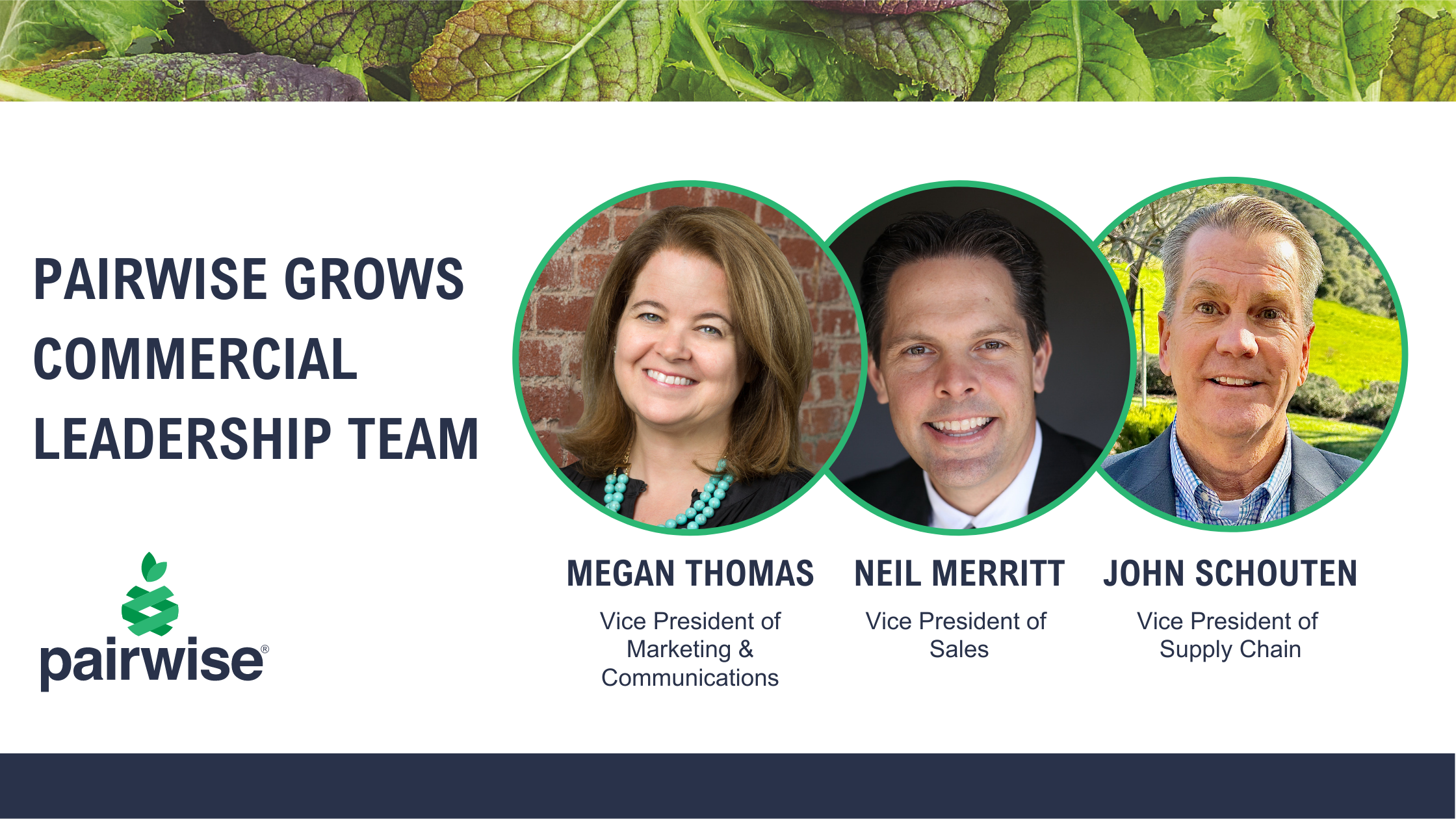 Three Vice Presidents are added to the Pairwise Leadership Team as the company anticipates its commercial launch with Conscious™ Greens.
Durham, N.C. – Feb 15, 2023 – Pairwise, a purpose-driven, food-tech company that uses gene editing to develop new varieties of fruits and vegetables, announced today the addition of three new Vice President positions. These positions fill out the company's Commercial Leadership Team as it prepares to launch its first product into the salad category, a nutrient-dense leafy green mix called Conscious™ Greens.
The new additions to the Pairwise leadership team include Megan Thomas, appointed Vice President for Marketing & Communications, Neil Merritt, Vice President of Sales, and John Schouten, Vice President of Supply Chain.
"We are so pleased to deepen the Pairwise commercial bench with these three industry leaders. Their combined ten decades of experience across key areas will transform our vision on how to bring great products to market," said Haven Baker, co-founder and Chief Business Officer at Pairwise.
John Schouten comes to Pairwise most recently from Andrew Smith Company, where he was the general manager of a $50M vertically integrated vegetable supplier—managing grower networks across Mexico and the southwest United States, and North American logistics to some of the most prominent food service providers. Schouten began his career at Dole Food Company, Inc and has also served in leadership roles at Syngenta Seeds Inc. and Monterey Peninsula Horticulture, Inc.
Neil Merritt joins Pairwise from Bard Valley Date Growers, where he served as Sr. Director of Global Sales. Based in California, the primary location where Pairwise products are grown, he has worked in leadership roles in sales, marketing and business development across multiple channels, including foodservice, retail, club, and C-store. He brings deep experience working in the US and Canada in the salad and fruit categories through previous positions at Dole and Ready Pac Foods.
Megan Thomas was promoted from Head of Marketing of Communications to a newly established position of Vice President. She has been with Pairwise since 2019 and has led the development of both the corporate brand and the company's first consumer brand, Conscious™ Foods. Thomas has worked in brand marketing roles for Smithfield Foods and C.B. Fleet Company, launching over two dozen products in her career, as well as serving as Group Vice President at The MARS Agency.
These strategic additions to the Pairwise leadership team come as the company prepares to launch its first product, Conscious Greens, into foodservice and retail this year. The nutrient-dense greens offer consumers new options in the salad category. The greens deliver the nutritional benefits of spinach with the taste and texture of lettuce, delivering a no-compromise option to the 54% of salad consumers who say they are "bored" with current options. Conscious Greens is the first product in the Conscious Foods pipeline. The company plans to continue to introduce new and differentiating products into the $72B US retail produce market.
In February 2021, Pairwise raised $90 million in a successful series B funding round, bringing total fundraising to $115 million when combined with the series A funding round. Additionally, Pairwise has a $100 million, five-year collaboration with Bayer Crop Science to advance gene editing tools in row crops. Pairwise is currently developing new types of leafy greens, berries, and cherries. In under five years, the company has grown to over 150 employees, with additional anticipated growth in 2023 as the company enters retail and foodservice.
About Pairwise and Conscious Foods
Driven by the belief that healthy food should be consistently fresh, delicious, and convenient, Conscious Foods is a flagship brand under Pairwise, a mission-driven company that is building a healthier world through better fruits and vegetables. Pairwise brings together leaders in agriculture, technology, and consumer foods to harness the transformative potential of new genomics technologies to create innovative new products. Pairwise is working to develop new varieties of crops, and to partner with organizations that seek to drive innovation across the plant-based economy. Pairwise was founded by Chief Executive Officer Tom Adams and Chief Business Officer Haven Baker, with scientific co-founders J. Keith Joung, Professor of Pathology at Harvard Medical School; David Liu, Director of the Merkin Institute of Transformative Technologies in Healthcare and Vice-Chair of the Faculty at the Broad Institute of Harvard and MIT; and Feng Zhang, McGovern Investigator and a professor at MIT. For more information, visit https://www.pairwise.com. For more information on Conscious Foods, visit ConsciousFoods.net.
For media inquiries, please contact: