Pairwise Welcomes Science Communications Leader Dr. Sarah Evanega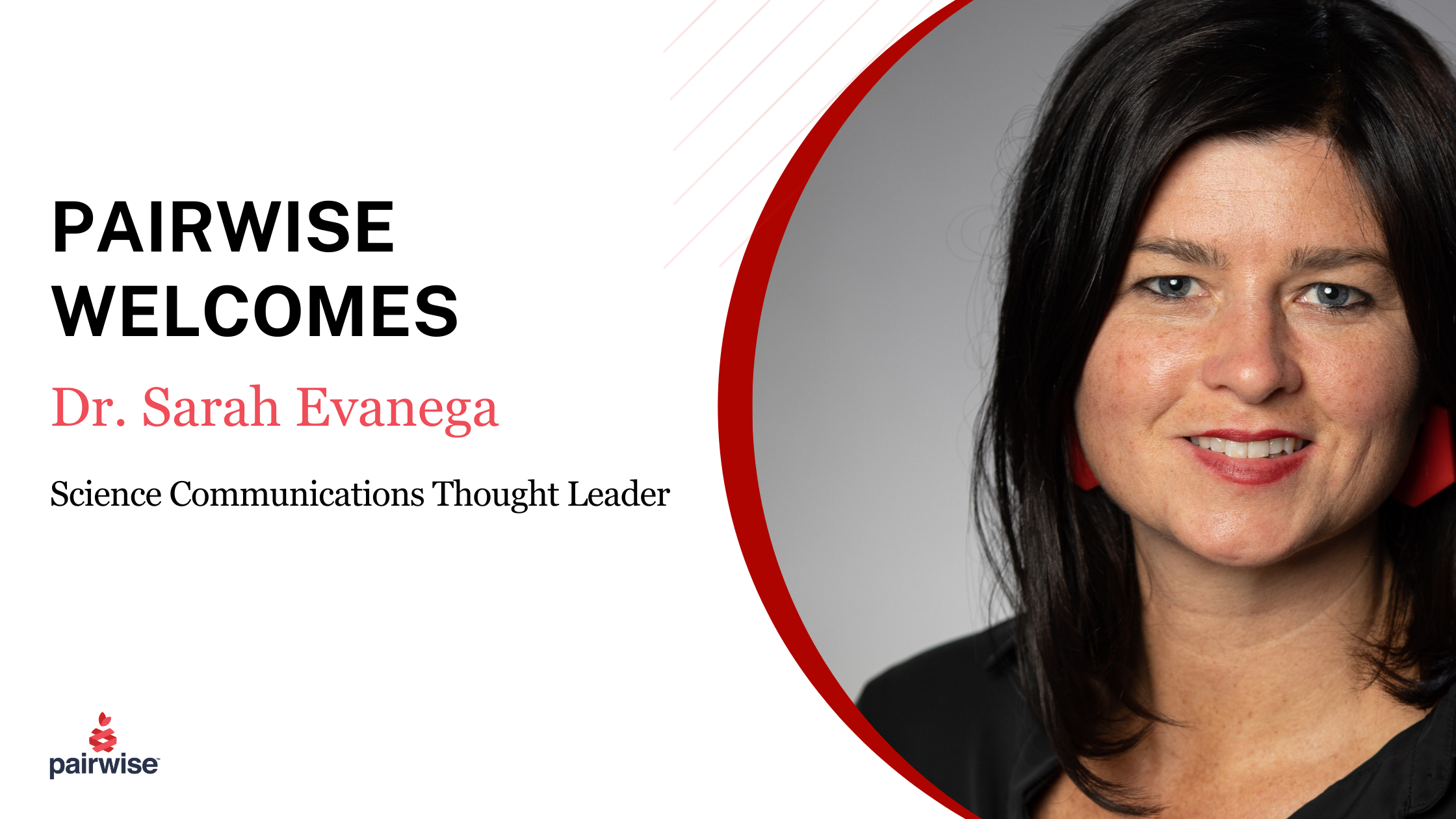 Increasing global populations, food insecurity, and production shortages all point to the critical importance of revitalizing our current food systems to support sustainable solutions to these very real challenges. The need for effective, human-centric communicators has never been greater, which is one of the many reasons we are excited to welcome Dr. Sarah Evanega as Lead, Stakeholder Communications to the Pairwise team.
"This is an extraordinary time for food culture. Not only are new technologies transforming industries from dairy to meat to now produce, but many people need or want new options -- options that have a lower impact, that are more accessible, and that offer better nutrition," said Megan Thomas, Head of Marketing and Communications at Pairwise. "Sarah, with her unique background as one of the top thought leaders in the adoption of technology in our food, is the right leader to connect the work of Pairwise to our communities."
As founding director of the Alliance for Science at Cornell University and later at the Boyce Thompson Institute, Sarah championed access to technologies, like gene editing, that are providing innovative approaches to address some of the world's most critical problems such as providing nutritious food to feed a planet increasingly stressed by climate changes.
"My own personal motivation for working in this space aligns tightly with Pairwise's mission to build a healthier world through better fruits and vegetables," said Evanega. "Expanding access to safe, nutritious foods was a driver for me as the founding director of the Alliance for Science and it still guides me today."
Recently, she spearheaded a panel of powerhouse voices representing food+tech, the nutrition NGO community, farmers, academics and policy makers in an independent dialogue as part of the UN Food Systems Summit titled, "What Role will Gene Edited Foods Play in Addressing Nutritional Insecurity?", in which she posed critical questions on the impact of gene editing on development and cultivation of nutritious foods accessible across the globe.
"For me, an important goalpost is ensuring innovations like CRISPR reach and benefit consumers—whether in the form of a life-saving vaccine or a nutritious, whole food in the produce aisle. I'm excited to be part of the team that is leading the way. What we are doing at Pairwise will be a game changer in the US with ripple effects around the world—where access to nutritious foods can be even more dire."
When asked about her decision to join Pairwise, Sarah pointed to the company's mission focus and cutting-edge tech advocacy.
"The opportunity to join a team committed to using exciting food tech like CRISPR to address looming challenges like malnutrition and food waste feels good. The climate clock is ticking. It's got to be all hands on deck and Pairwise is moving quickly in the right direction."
Sarah can be found on Twitter at @Sarah_Evanega or at sevanega@pairwise.com.
About Sarah:
Sarah received her PhD in the field of plant biology from Cornell University in 2009, for which she conducted an interdisciplinary study combining work in plant molecular biology with science communication. Her dissertation focused on the controversy over genetically engineered papaya in developing countries with a specific focus on Thailand. She went to Cornell after completing a BA in biology at Reed College. Lured by great weather, plenty of water and an unbeatable intellectual environment, she remained at Cornell University after completing her PhD to help lead a global project to help protect the world's wheat from wheat stem rust.
Sarah served as the founding director of the Alliance for Science—a global communications initiative based at the Boyce Thompson Institute that promotes evidence-based decision-making in agriculture. Her work at AfS was recognized when she received the 2021 Borlaug CAST communication award. She currently serves as Lead, Stakeholder Communications at Pairwise, an innovative start-up based in North Carolina. Sarah grew up in a small agricultural village in northwest Illinois and now lives with her family in Ithaca, New York.